"There is no therapy for songwriters. Songwriters go to therapy and the therapist..."
– John Mayer
Thoughts After Midnight
Its wild how fast things turn around. One minute you're fine, with no fears, not a care in the world. The next you've got eighty seven different problems all needing an answer right away. How does this work? Why did this happen? What should I do now? Where do I go from here? Its just this crazy roller coaster that takes us through life. I'm not sure really how things get to the...
An Ode to, Oh So Many...
The fact that I'm even on here means somethings either wrong, or I've just learned something that I find important enough to take the time to sit down and write it out for you. I suppose its possible that both could occur simultaneously. I'm not even sure where to start on this one, and due to a lack of anonymity on the social network universe, I will once again be very...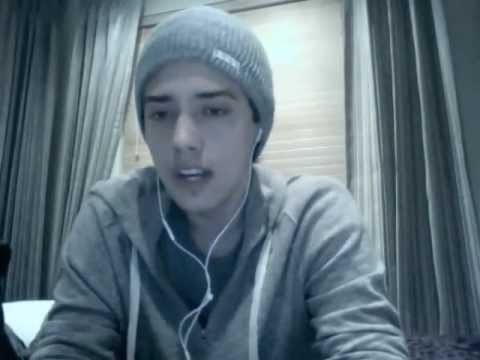 9 tags
Slipping
Do you ever feel like your slipping back into an older version of yourself? Like, you've spent so much time working on you, and suddenly a situation arises, and instead of thinking about it logically, you subconsciously revert back to your old ways of thinking. It's happening to me, but I'm doing my best to handle things the way I want to know, not the way I used too. I think...
20 tags
Sinking Ships
The ocean floor's no place for a man, Who's righteous anger leads him. He'll fight till hell, through flame and sand, Though pain brings tears through bleeding. Sunk is the ship that was his pride, The stars are leading onward. Feel the pain, the teeth, the bite, In keeping his sunken honor. Feel the joy, now let it go, Don't give in to the pleading. Thoughts in...
My Stupid Mouth
Has got me in trouble, I said too much again… KP
Exit The Parade: Let's Draw Something Together →
exittheparade: Did you know that there are over 500,000 apps available for the iPhone, and a few weeks ago the Apple app store reached their 25th billion download. That is an amazing feet not just for Apple but technology as well. I personally own an iPhone, and have it least 50 apps that I use constantly to…
I want my bubble back...
If you are ever lucky enough to meet someone who will divide your life into the time before you met, and the time after, cherish that moment. For me, it wasn't a person, but a place. The saddest part about it though is that I didn't know it until after we parted ways. I miss BU. I miss my friends, my room, my life there. I hope one day to find this happiness somewhere else, but until...
5 tags
A late night confession...
So at the risk of sounding like a pathetic and desperate loser, I'm going to spill for a sec. In the last few years, I've had this fear, it sometimes overwhelms me. It cripples me when I need strength the most. It chokes me from saying and doing things that I so wish I had done. I am afraid of failure. I know, I know, everyone is afraid of failing, but I mean it really has hindered the...
Sometimes...
Sometimes my heart aches so bad I think it's going jump right out of my chest. Then I see her or something that reminds me of her, and I get the same feeling. I guess it's probably better then that I live without her. At least this way I won't have to delete as many photos…
6 tags
Ventilation
I know this is going to sound like it's completely out of the blue, but I don't think to this point in my life I have a single friend that I can just talk to, and really vent to, and they can just take it. Not say anything, not try to fix anything, not offer suggestions, just take it. I have such a voracious need to express my thoughts and be heard for me, and I want to just open to...
jhnmyr: Here's a clip of the first single off...
Learning...
I used to lay awake, wondering, "what should I write about next?" Nowadays, I find myself being so busy that I don't really have time to write about things that I would like to write about. I don't think I've had a lot of time to think for myself lately. I've been working three jobs and taking sixteen units a semester for the last two semesters, and I think I...
I Feel
A crush coming on…strong. Excited and nervous, it's good to be back!
Top Ten Albums
So please realize this is not a professional poll, rather a cumulative list of music that I would share with someone of they asked me what good music is. If you had never heard music before or if you could only listen to these albums for the rest of your life, you would probably never get tired of these. At least I wouldn't. They are not in any particular order so don't freak out that...
Ms. Anonymous
You ever just feel like yelling at the top of your lungs right in front of the person you like, "I LOVE YOU! WHY DON'T YOU GET THAT?" That's where I am tonight. So if your reading this Ms. Anonymous, please know that I would do anything for you. 
If You Haven't...
If you haven't done so in the recent past, I encourage you to stay up much later than you should. Find out who you really are. Its good for you. Kinda. KP
"Sometimes I get the itch to go out for a drink thinking I might miss meeting the..."
– John Mayer (via omgitsmallory)
jhnmyr: Here's the theme song I wrote and...
I don't get it...
If I like you, and you like me, why isn't this easier? Or is it just me over thinking things? Ugh. Freaking women lol
"I am an ego maniac with an inferiority complex"
– Eric Clapton
"Life is a beautiful thing. Pack a bag. Make a playlist. Watch the world. Don't..."
– John Mayer  (via partybythemoon)
Haters Gonna Hate
So I'm going to break my silence by stating this: Haters gonna hate. I think that the average person doesn't understand the concept of Maturity, aging, progress. People will try so hard to bring another down and they don't realize that they just look much worse than if they would have just kept their mouth shut. Case in point: YouTube has this wonderful site where you can watch,...
Tumblr,
I know I have been cheating on you with all the other single sites, but you need to know that I committed to you, and will be reuniting myself to you very shortly… Your distant lover, KP
What's...
Whats crackin Tumblr? It's been a while…
Posture of a Psyche
After a season of being hurt and let down by so many people in my life and those who I let influence me, I think I'm really ready to kind of pick up and move on. I'm tired of pretending I'm not in pain, and I'm okay. I think I've come to this place by divine design, not to show me how good I had it, but more like how much better things are going to get. I've...
one forty plus: Hi everyone, After several months... →
jhnmyr: Hi everyone, After several months of going week to week monitoring and hoping to correct the condition, I am forced to cancel my upcoming singing engagements due to something next to my vocal cords called a granuloma. I'm bummed to have to bow out of both the iheartradio Music Festival in Las… How bout breaking my heart John….
Symphonywinter,
Kinda ironic that she's known for just that huh?! She lowered her standards and got the crap beat outta her… Sad days. Never take advice from someone worse off than you.
Women,
On behalf of all the men out there, just stop screwing with us. If I have one more girl flake out on me, I'm going to be single the rest of my life. Be truthful. NOTHING is more attractive than just being truthful with us. You expect it from us, so we are calling you out on it. No more double standards. If you don't want to do something, don't make up some lame excuse for not...
I think I'm four years late on this,
But I think I just realized I'm not in high school anymore. You know that feeling, like, I've lost all my baby teeth, we're playing for keeps now kinda thing…
4 tags
Welp...
I man'd up and asked her. We're gonna go on a date. lol Fear of rejection is: The perfect motivator.
6 tags
Time
I think time is something most people take for granted. We just sit around waiting for the next event in our lives. I want to see time for what it is. Beyond the limitations of what science tells us it is. I want to see it as opportunities. Opportunities to succeed, to rise, to fall and fail. I've spent so much time in my life trying to succeed that maybe its time to fail. Time to stop...
You know what I'm talking about...
Making the move: When is too soon to move in?
To: You From: A Gentleman
When did chivalry die? Holding doors, standing when a lady is in the room. When did table manors become a thing of the past? Napkins, glasses, multiple forks, the whole nine yards. I think for the next season of life, I'm going to invest in myself and in a select few people in my life to be the best that we can be. A proper gentleman. One who accepts the challenges of everyday life and makes...
Validity
I feel like I'm reaching for something within myself lately. I'm searching for something and I can't put my finger on it. I sat down and thought about it late last night and came to the conclusion that what I'm missing is validation. In my life, up to this point, everything has been decided for me. The way most people's life goes. Parents tell you what you can and...
Relic'd
To this point in my writing on here, I have been explaining things that I have done. It's been a way of justification for me to understand just why it is I do what I do. But here's a new thought, what if instead of telling you things I've done, I tell you things I haven't done. What if in the lack of information you know about there lies something to be learned about me....
Talking to me
I sat myself down tonight and had talk with myself. I've decided to kind of crawl back into myself. Not in terms of cutting others off, but more of tuning them out and just thinking for myself again. I feel like I took a break from it for a while there and now it's time to go back. Just like I took a vacation from being me. I've started to realize that my own opinions have become...
England Was Never Mine
I had conquered the world All your eyes can see is mine By the wave of my hand, nations fell But England was never mine There she stood, The flag, her cross, Her walls proud like a badge, Of honor and love. Strong like a jewel, Soft like skin, Something precious, A coat to weather in. Shake off the rust from the gears of war, From the struggle within myself. Her winter coat, her summer smile. Shed...
So Basically...
I'm looking for a girl that to this point in my life I haven't been able to find. So if you're out there, here are some things that I would like you to know/have. -I want someone who knows how to be a lady. -You should have proper table manners. -Know how to take (receive) chivalry (the guy should pay 90% of the time, that kinda thing). -Please speak your mind. I'll...